SPOTLIGHT OF THE WEEK: September 20, 1998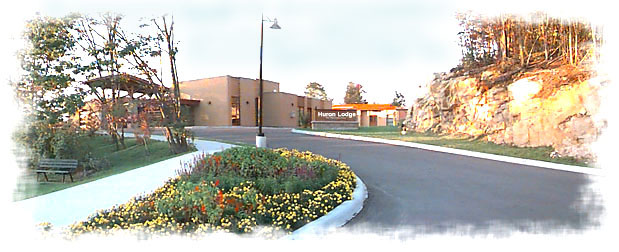 Huron Lodge - 100 Manitoba Road

Although residents moved from the old building to this beautiful new
building in April, the official grand opening ceremony was held on
Friday, September 18, 1998.

The ceremony included a special luncheon for residents and board
members at noon in the new cafeteria.

A sculpture done by artist Dennis Cocchio of Canada Brick, for the
Lodge, was unveiled and will be permanently displayed in the lobby.

The official opening and ceremonial ribbon-cutting took place with
Cam Jackson, the Ontario Minister for Long-Term Care with
responsibility for seniors, assisted by Bill Waddell, chair of the
Huron Lodge Board, Gil Contant, Lodge chief operating officer,
Mayor George Farkouh, and others.

This new beautiful building is more than just a home for those who
need care. It also offers several support services and programs
that allow clients to remain in the comfort of their own home.

The Lodge offers: Meals on Wheels; Telephone Reassurance,
Friendly Visit; Day Program; Loan Cupboard; Alzheimer's Caregiver
Suport Group; Home Maintenance; information and referrals, and
handi-lift bus service.

The Lodge is made up of 3 buildings: the multi-purpose centre, which
includes administratiooon, main kitchen and maintenance facility;
the cognitive residence, a 24 bed facility; and the 12 bed cognitively
impaired residence, a unit for those suffering from any of the forms
of dementia, such as Alzheimer's Disease.

Huron Lodge, 100 Manitoba Road, Elliot Lake hopes to become a
model of service delivery in the province of Ontario, and is well
positioned to meet the changing care needs of Elliot Lake.