SPOTLIGHT OF THE WEEK: May 30, 1999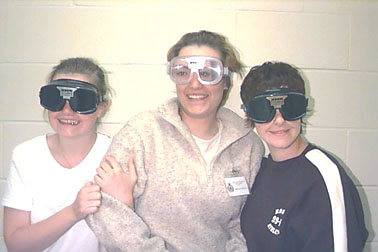 Volunteers Julie Blahey, Melissa Janveaux and Lara Hukezalie
trying the Elliot Lake Police Service's new Fatal Vision Goggles
which simulate intoxication for the user

There are both a daytime and night-time set of goggles, to
simulate intoxication during these times of day.

The goggles have a prism built into the lens that sends false
messages to the brain, making sobre users think they are
drunk.

The goggles will be a great teaching aid and allow users to
experience the effects of drinking, which may help save
lives.